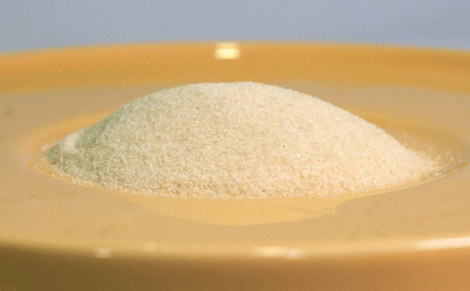 Cold Soluble Gelatin
Foodgel CWG-01
Product Introduction
Conventional gelatin does not fully dissolve in water under room temperature, only when the gelatin-water solution is heated above 30℃, the dissolving starts. The gelatin-water solution forms gel gradually while cooling off.
Foodmate presents a new type of cold water-soluble gelatin for specific circumstance which requires gelatin to be fully dissolved in water under 10℃.
Physical properties
The product presented in light yellow or white powder which is obtained by special production procedure with state-of-the-art equipment. It contains 18 amino acids that are required by human body as well as special amino acid chain presented as peptide molecular polymer. It is a multi-level hydrolysate of collagen which dissolves in water.
The Main Purpose

– Meat Adhesive Used as a binder for minced meat. Foodgel CWG-01 is colorless and tasteless, has superior bonding effect. Highly stable and easy to operate, bonds small pieces of meat into larger pieces without extra procedures. Can be used on almost all meats such as mutton, beef, pork, chicken, fish, etc., and presents little trace of bonding. Finished products are resistant to high-temperature cooking, frying and easy to cut. On top of that, its water binding capacity give the finished product, whether it's made with raw meat or heated, outstanding mouthfeel after cooking, maintaining a fresh look of the final product. Using the product would bring benefits including but not limited to yield increasing of minced meat, cost reducing etc. The main ingredient of it is collagen which is healthy and safe.

– Thickener In comparison to conventional gelatin, the Foodgel CWG-01 is cost saving & easy to operate in producing cake and confectioneries due to its cold-water solubility which requires no extra step of heating up. Therefore, Foodgel CWG-01 can be mixed with other ingredients altogether to boost efficiency and reduce potential risk of contaminating during the production. Additionally, it's a healthier choice to other thickeners because it is made from collagen.

Application Guide

Foodgel CWG-01 is usually compounded with Transglutaminase (TG enzyme) when used as meat glue. TG enzyme is a type of active single protein with 38,000 Dal which consists of 331 amino acids. It catalyzes the intra- and inter-molecular covalent cross-linking of protein and peptides, thereby improving the structure and function of the protein which eventually leads to an improved flavor, texture, appearance, and mouthfeel in finished products. Considering the traditional process for meat products requires adding phosphates which possess potential risk to health, Foodgel CWG-01 is a healthier choice while maintaining or even improving the water holding capability, bonding and texture of the finished products.
Other products you may want:
Apply for Sample or Submit Request
Contact us for more information on Technical Support, Free Sample, FOB Price, etc. You will be replied within 6 hours.